For those Anchorage denture wearers who desire more permanence and less maintenance than is required by traditional Anchorage dentures, Dentures Alaska offers implant and tooth supported dentures. Implant dentures help to prevent bone loss and they provide a much improved fit. They also resemble your real teeth, allowing you to look your very best.
Anchorage Implant Dentures – Comfortable And Better-Fitting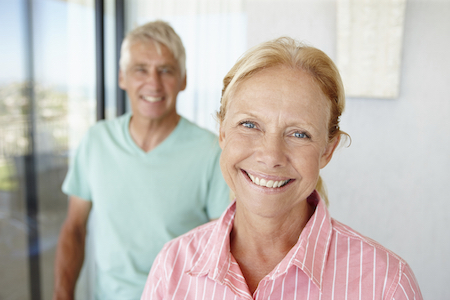 Unlike regular dentures that cover the roof of your mouth, implant retained/supported Anchorage dentures attach right to your bone, thus improving taste and thermal sensitivity. Implant retained dentures in Anchorage have snaps that allow you to remove your Anchorage dentures with ease. With implant dentures, you will also speak clearer and chew better.
No Anchorage Dental Implant Referrals
At Dentures Alaska, we perform all of our pre-prosthetic surgery and extractions in-house. This eliminates the need to go elsewhere in search of an Anchorage implant denture specialist. We also have all the tools and techniques to ensure your total comfort throughout your Anchorage dental implant procedure. In fact, many of our patients comment on how comfortable their appointment turned out to be. At Dentures Alaska, we can provide you with various means of relaxation during your implant procedure, including IV sedation, oral sedation and laughing gas.
If you are a denture wearer, if you are consider dentures or if you need to have several teeth extracted, ask your Anchorage denture specialist about implant dentures in Alaska. With a permanent and better fit and a more natural look and feel, you will finally get to experience the joy and comfort that comes with wearing dental implants in Anchorage.
Free Consultation For Implant Supported Dentures
At Dentures Alaska, we offer a free consultation for all patients considering implant supported dentures as an alternative to traditional Anchorage dentures. Call Dentures Alaska to make an appointment today!