So you've completed your denture treatment! Getting used to your brand new smile can take some practice, but knowing the right steps to follow can help ensure an easier transition to becoming a successful denture patient. Learning to use and wear your dentures doesn't happen overnight, but with patience and the right home care, you'll be glad you made the investment in your smile.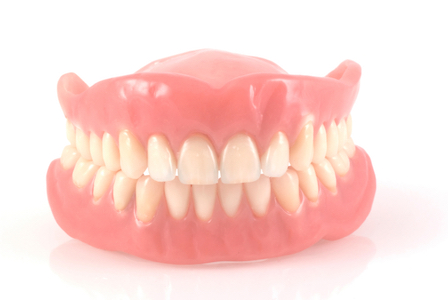 The first step to becoming accustomed to your dentures and getting them to feel as comfortable as possible, is wearing them frequently. While this may seem difficult in the beginning, it's an important step to take.
Not becoming acclimated to your prosthesis will prevent you from being comfortable with them in the future. In the early days after your treatment, wear your dentures all day long, except when you sleep at night. For one this will help your mouth become used to the prosthesis, and it will also help your other oral muscles to accommodate to slight modifications in speech and eating.
Be patient when you're first learning to talk or eat while wearing your dentures. It's ok to practice in private! Some letter sounds make take a little more practice, but you'll learn to do just fine and get the hang of it in no time. Just like teenagers have a period of time when they learn to speak wearing a brand new set of braces, denture patients will have a learning curve as well. The same goes with eating. Take small bites of softer food and work your way into what is your typical diet. There may be some types of food that you find will need to be cut smaller, or cooked a different way, but you'll soon be able to get along very well during mealtime.
Take your time and have reasonable expectations with the amount of time you hope to become accustomed to your new denture. It won't happen overnight, but within 2 or 3 weeks most people are very comfortable with their new set of teeth. Be patient with yourself and remember that practice makes perfect.