Congratulations on your decision to get a new set of dentures! Dentures are one of the most economical ways to replace all of your teeth and enhance the appearance of your smile, but did you know there are several types of denture treatments to choose from? Knowing what options are available can help you make the best choice for the future of your smile.
Partial Dentures
Rather than replacing all of your teeth at once, partial dentures allow you to replace only the teeth that are missing, when other healthy teeth are still present.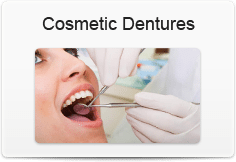 Rather than covering your entire arch, the partial clasps around other teeth to hold it securely in place. This limits the amount of material that is used for the appliance, making it feel smaller in the patient's mouth.
Full Dentures
The most commonly known type of denture is the full denture. A full denture is made of acrylic or acrylic on a metal base, and uses suction to hold itself into place in the mouth.
Same Day Dentures
This expedited form of denture treatment allows patients to have dentures completed in just one day, even if it means they are having other procedures like extractions performed immediately before their denture delivery. If you have poor dental health and want to have your teeth removed, but don't want to wait weeks for a new set of dentures, then same day dentures can provide you with the instant treatment you want.
Implant-Retained Dentures
Sometimes called "All on 4 Dentures," implant retained dentures is exactly that: dentures that are held into place by implant roots. This allows patients to have a smaller denture prosthesis that stays firmly in place 24 hours a day. Implant supported dentures provide patients with an alternative to full dentures or full mouth implant therapy. One of the greatest benefits of this type of denture is the small amount of material that is used, making them feel as close to natural teeth as possible.
What type of denture is best for you? We offer complementary consultation visits to our new patients to help them determine what type of treatment is best for their personal goals, treatment needs, and budget. Call us today to find out what type of tooth replacement option is best for you.