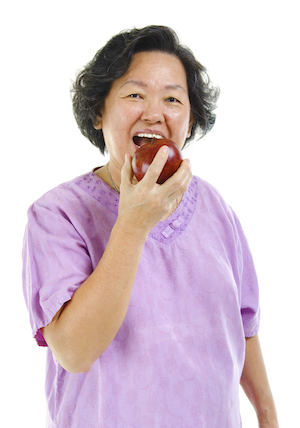 Want to know more about getting dentures? A new dentures patient is sure to have plenty of questions about the types of procedures, cost, length of treatment, and more. At Dentures Alaska we want all of our patients to understand the entire treatment process, because it helps us provide better care.
Here are some of the most common FAQ that our new patients ask us when they're considering denture therapy.
1. Are there different types of dentures to choose from?
Yes! From full dentures that replace all of your teeth, to partial dentures that replace only a few teeth, there are several different kinds of dentures to choose from. Some are removable while others are permanently supported by implants.
2. How long does the treatment take?
Treatment can be done in one day, or over a period of a few months depending on what type of treatment you elect to have completed.
3. How much do dentures cost?
Individual dentures start around a few hundred dollars, while full mouth implant dentures are typically those with the largest financial investment.
4. What will my teeth look like?
The teeth on your dentures will be carefully designed to be the shape, size and color that reflects a natural yet aesthetic appearance.
5. How do I know if I need dentures?
If you've lost multiple teeth, have several broken or severely decayed teeth, or have advanced tooth mobility due to gum disease, then dentures can be a straightforward approach to restoring the health of your mouth. A complementary consultation can determine whether or not dentures are the best option for your individual needs.
6. Will I be able to talk or eat like normal?
It will take a little while to get used to functioning with your new prosthesis, but with practice over a couple of weeks you will become comfortable wearing them throughout daily activities.
7. Why do I need dentures?
Dentures help you protect your normal diet and speech. Without an adequate number of teeth, your diet can be insufficient as eating is difficult. Missing teeth will also impact your facial profile.
8. Will my insurance cover it?
Everyone's insurance benefits are different depending on the type of plan and coverage they have purchased. Our insurance coordinators are happy to help you determine what type of coverage your plan provides for your selected form of treatment.
9. Do you offer payment plans?
We provide in-office financing options to our patients to help them get the care they need.
10. Will the treatment hurt?
Denture treatments are very straightforward and often require no invasive procedures at all. For patients that require extractions or implant services prior to their denture delivery, we offer local anesthetic, nitrous oxide, and IV sedation to patients in order to maximize their comfort throughout the entire treatment.
11. Do I have to take them out every night?
It's important to take out your dentures each night to minimize the risk of bacterial infections and allow your oral tissues a chance to breathe. If you wear implant-supported dentures, these smaller types of dentures will stay in place 24 hours a day.
12. How often will they need to be replaced?
Your denture should last for several years. Dentures typically only require replacement when they begin to fit improperly due to gradual bone loss. Partial dentures may need to be updated or replaced if more teeth are lost later on.
13. What products do I use to keep them clean? Do I still have to clean my mouth?
Using a denture tablet in a glass of water each night is great for soaking your denture and loosening debris. Brush your denture in the morning before placing it back into your mouth. Use a separate brush to cleanse your mouth twice each day.